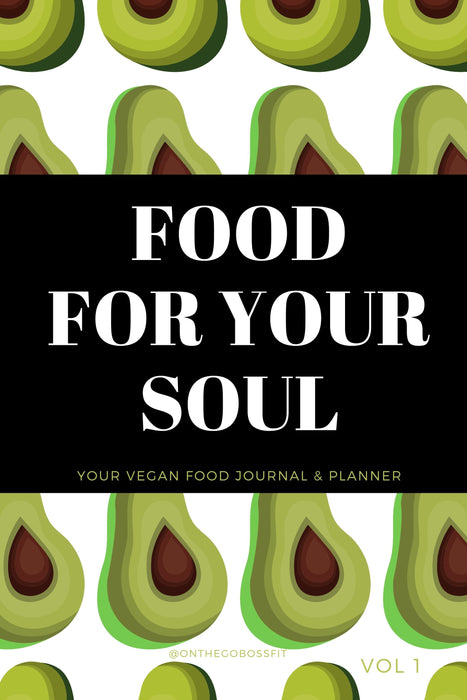 Food for the Soul Meal Planner Journal
Save

Liquid error (snippets/product-badge line 32): Computation results in '-Infinity'

%
Meal planning is the first step to a great meal prepping lifestyle. Living a vegan or vegetarian diet goes hand in hand with this lifestyle, due to most of your food has a short shelf life.  Food for the Soul Meal Planner Journal is a great tool that lets you easily keep track of your weekly menus, & grocery lists. Having all that information in 1 place allows you to create an easy healthy, and nutritional menu…one that feeds your soul.
First, learn to simply plan your meals utilizing the taste you would like to experience for the week. Craving Tacos, or maybe you are craving a great Alfredo Pasta? Whatever taste your soul is craving, plan your weeks meals using food you already have. Your grocery list shouldn't be more than 10 items per week. Then, use the meal planner to create meals using similar ingredients but different taste. Plan "TACO TUESDAY" and make shredded Jackfruit Birria Tacos (a great alternative to chicken tacos). Or plan a "Cajun Jackfruit Alfredo" pasta on Thursday (A great alternative to Chicken Alfredo). Both of those meals use relatively the same ingredients yet gives you 2 distinct tastes.
Once you find your meal planning groove, you'll find that cooking, and pre prepping meals ahead of time, gives you more time in the day. This planner and journal keeps the "What do you want to eat today?" Questions at a minimum! Go ahead create your Soulful Menus today! Unlock a clear mind, and body through something you need daily Food for the Soul!
The Food for the Soul Meal Planner Journal includes:
Weekly Meal Planner―Weekly meal planners with an extra space for you to write out what meals you want to plan for the week. Keeping a list of your meals in a journal form keeps track of what meals you've already had. There is even a space for your quick shopping list.
Weekly Journal―The weekly journal gives you a space to write out what meals from the previous week you liked and disliked. The journal gives you a space to write out your thoughts on recipes. This allows for future tweaks that would make your favorite dishes even better.
Energy & Health ―The journal pages give you space to write out how you energetically feel after your week of meals. It provides you with a space to review your previous weeks changes and what you can do better.
Nutrition Shake Planner- Weekly meal planners also include space for you to write out what the best times in your day to drink a nutrition shake. I recommend nutrition shakes to keep your body balanced while on your total health journey.